You're looking for ways to improve your health and reach your goals but frustrated and maybe just a little irritated that it costs so much to hire a coach or healthcare practitioner to get the help you need. 1:1 counseling is an investment and it's not always in your budget – believe me, I get it the economy sucks right now!
However, if you're looking for a more budget–friendly option or if you're just not ready to make a big commitment right now, then joining a membership program may just be the ticket.
Becoming part of a membership is not only incredibly convenient, but it also offers a wide range of benefits that can help you take control of your health in no time.
It doesn't matter if you want to lose weight, gain strength, or feel better about yourself. Joining a membership can be one of the best investments in your health and well-being.
Here are eight great benefits of joining a membership that will help you reach your goals and take your health up a notch!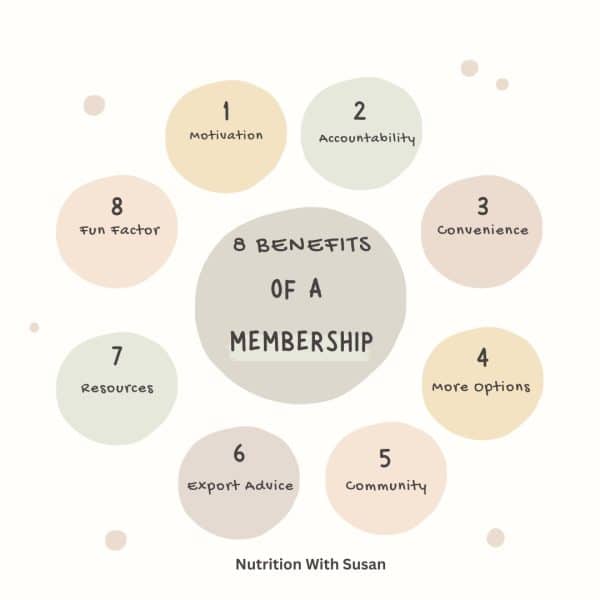 8 Benefits of Joining a Membership
1. Motivation – Everyone needs some extra motivation sometimes, which is why memberships can be so helpful. The sense of community and camaraderie within the group will keep you motivated and inspired to stay on track with your goals even when times get tough.  Knowing that others are counting on us each day gives us an extra push when we feel like giving up because it reminds us why we started in the first place – to reach our goals!
2. Accountability – It's no secret that accountability goes hand-in-hand with success when it comes to reaching any goal—including health goals! Having people around who are also working hard towards their own goals can be incredibly helpful for accountability purposes. With the support of fellow members keeping tabs on each other's progress, everyone will have an added incentive to stay committed and keep pushing forward with their goals.
3. Convenience – Memberships offer convenience without compromising quality; this means that you don't need to worry about running around trying to find the right resources or worrying about missing out on important information because everything is right at your fingertips!
4. Variety Of Options – Memberships come in all shapes and sizes, so whether you're looking for something low-commitment or more long-term, there's sure to be something out there for you! Plus, many programs offer flexible payment options so finding one that fits within your budget should be easy peasy!
5.  Community – Joining a membership means becoming part of a community that has similar goals as yourself. You can learn from others in the group and even form lasting friendships along the way! Plus having people around that understand exactly how challenging it is to reach certain fitness goals makes everything easier knowing we're not alone in this journey!
6. Expert Advice – With professional advice from experts in the field, members have access to up-to-date information about nutrition, exercise, mental health, stress management techniques, sleep hygiene tips, etc., all tailored specifically for your interests and goals! This helps ensure that members are getting the most accurate and helpful information possible as they work towards their goals. Having access to trained professionals can make all the difference in getting the results you want.
7.  Access to Resources – With a membership program, you can access resources like nutrition plans, workout routines, meal plans, and more. These tools can help make lifestyle changes easier by giving you the information and guidance necessary to achieve your goals. Plus, if something isn't working or if something is too difficult for your current level of fitness or health condition, there are always options available for modifications. This can make all the difference when it comes to staying on track with your health regimen and reaching those big dreams of yours!
8.  Fun Factor – Last but certainly not least, memberships are fun! With activities like group workouts or friendly competitions among members, it's never been easier (or more enjoyable!) to reach those health goals of yours!
Conclusion
All in all, joining a membership program has countless perks associated with it that make improving your health easy and convenient while still being fun and enjoyable.
Not only do memberships provide access to experts who can help guide you through the process, but they also give motivation & accountability which helps keep everyone on track! Plus, with unbeatable affordability, accessibility & variety it's impossible not miss out!
You don't have go it alone—with access to personalized support from professionals plus community support from fellow members who understand what you're going through—you can rest assured knowing that reaching your goals is well within reach.
Plus who knows? You might even make some new friends along the way too!  So, if you're ready for better results in less time, then what are you waiting for? Start exploring some memberships today!
Since we're talking about memberships, stay tuned for my brand spanking new membership program I'll be rolling out this fall.
This membership is for you:
If you're on the hunt for a tribe of awesome, like-minded women to swap stories, tips, and laughs with, you'll be in the right place.
Dealing with autoimmune and inflammatory challenges? I've got your back – this membership is tailored precisely for you. Wave goodbye to solo struggles and say hello to a supportive community that truly gets it.
Need an affordable option.  I get it – investing in your health is a no-brainer, but sometimes the budget does a little dance of its own. This membership is here to prove that wellness doesn't have to break the bank.
So, get ready to dive into a sea of camaraderie, solutions, and self-care – all coming your way this fall! Plus there are lots of other goodies like free resources, monthly Q & A, and guest speakers in store.  Follow me on IS, FB, or LI, and be the first to get all the details when it's ready to launch.
If you enjoyed this post, you may be interested in my article on The Benefits of Working With A Registered Dietitian.
A Registered Dietitian Gives Personalized Nutrition Advice
When you work with a registered dietitian, you'll get personalized nutrition advice tailored to meet your individual needs and goals. Your dietitian will be able to assess your current eating habits and develop an action plan for improving them through changes in dietary patterns, meal timing, and other lifestyle habits that can enhance your overall health and wellness.
Make Healthy Eating Easy
Eating healthy isn't always easy. It can take time and effort to plan meals and shop for ingredients, not to mention cook them when it comes time to eat. A registered dietitian will teach you how to make healthy eating easier by teaching you how to save time in the kitchen without sacrificing nutrition.
This could involve anything from stocking up on healthy staples like canned beans and frozen vegetables so that dinner is easy on busy nights or finding ways of making pre-packaged convenience foods healthier by adding fresh ingredients like vegetables or lean protein sources.
Eating healthier doesn't need to be an all-or-nothing proposition; small changes over time can add up and make a big difference in the long run! A registered dietitian can help you identify achievable short-term goals that lead up to larger long-term objectives so that maintaining healthy eating habits becomes easier each day.
Give You Personalized Guidance Through Your Health Challenges
Everyone faces unique challenges when it comes to eating well and staying healthy; a registered dietitian can help guide you through any issues specific to your own individual situation such as food allergies, chronic illnesses such as diabetes or heart disease, digestive problems, etc., so that no matter what challenges come up along the way, there's always someone there who knows exactly how best to advise and support you based on their expertise in nutrition science!
Get The Right Answers To All Your Questions With A Registered Dietitian
It is common for people seeking nutritional advice from non-experts online or in books to find themselves overwhelmed by conflicting information or just plain confused by the science behind it all! A registered dietitian has the knowledge necessary to answer any questions you may have about nutrition—from what kind of fats are good for us, to which dietary supplements are most effective—so that you always know exactly what's best for YOUR body!
Manage Stress Around Food
No matter the situation, we all experience stress around food at some point in our lives—whether it's feeling like we've overindulged or feeling guilty about not being able to stick to our dietary goals. A registered dietitian will provide support and encouragement as you learn how to make healthier decisions when it comes to food choices without having to adhere to rigid diets or eating plans that don't work for your lifestyle.
A Registered Dietitian Can Be Your Support And Accountability Partner
Last but certainly not least –having regular check-ins with a qualified professional ensures that you stay accountable throughout the process of reaching your desired health outcomes. Having someone who understands the importance of making positive choices helps keep us motivated while providing support along the way!
Read the entire article to learn more.