Who said cocktails have to be loaded with sugar and calories? Not me! In fact, I'm on a mission to prove that you can have your drink and drink it too, without feeling guilty the next day.
That's right, folks, healthy cocktails are a thing, and they're about to become your new best friend. So, in honor of our upcoming love affair, I'm sharing a recipe for Rosemary Melonade that not only tastes great but is good for you too.
Intrigued? You should be! This cocktail is rich in Vitamin C and lycopene that help promote a healthy inflammatory response. It's time to drink up and feel good about it! Read on to learn about what's in it and what makes it so healthy.
Healthy Cocktails:  What Makes Rosemary Melonade Healthy?
Watermelon
Watermelon is super hydrating but low in calories making it a great choice for that summer bod. Watermelon is not only a delicious fruit but it also has numerous health benefits.
This fruit contains lycopene, an antioxidant that helps in reducing inflammation. Regular consumption of watermelon can help lower blood pressure due to the presence of the amino acid citrulline which helps in relaxing the blood vessels.
After a heavy workout, muscle soreness is common, but watermelon can come to the rescue as it helps in reducing muscle soreness and aids in faster recovery due to its high content of  L-citrulline.
Lemon
Lemons are a refreshing and tasty way to improve your overall health. They're a good source of Vitamin C, potassium, and Vitamin B6 as well as plant compounds like citric acid, hesperidin, diosmin, eriocitrine, and d-limonene.
Not only are they packed with vitamin C for a strong immune system, but they also offer numerous health benefits for heart health, cancer prevention, kidney stone prevention, and anemia.
Lemons contain flavonoids which can help lower blood pressure and oxidation levels in the body, reducing the risk of heart disease. Additionally, studies have shown that compounds found in lemons can help prevent the growth of cancer cells.
The high levels of citrus acids in lemons can also aid in the prevention of kidney stones by breaking down calcium-based stones. Lastly, the iron and vitamin C in lemons help to prevent anemia and increase the absorption of iron in the body.
Rosemary
Rosemary isn't just a delicious herb to add to your dishes, it's also packed with incredible health benefits! For starters, rosemary is rich in phytochemicals which can help improve eye health and liver function.
Additionally, this herb has anti-inflammatory properties which can help reduce inflammation throughout the body. If you're looking to manage stress and anxiety, rosemary can help with that too!
It has natural calming effects on the body, making it a great option to add to your self-care routine. And lastly, rosemary has been shown to improve cognitive function, helping to boost memory and focus.
Pineapple
Pineapple is not only a delicious tropical fruit, but it's also packed with health benefits. This sweet and juicy fruit is high in antioxidants like Vitamin C and manganese that help combat inflammation in the body.
Pineapple's natural enzymes can also aid in digestion, making it a great addition to any meal. Believe it or not, pineapple has been shown to reduce the risk of certain cancers and even ease symptoms of arthritis.
Strawberry
Who doesn't love indulging in juicy and sweet strawberries? These little red fruits are packed with nutrients like vitamin C, folate, potassium, and dietary fiber.
Consuming strawberries can improve your heart health, reduce the risk of type 2 diabetes, and promote healthy bowel movements.
They are also high in antioxidants that help protect your body against oxidative stress, which can contribute to the development of chronic diseases like cancer. Moreover, strawberries are low in calories, making them a great snack for weight watchers.
Stevia
Stevia is a natural sweetener that has gained popularity in recent years. Stevia has a few health benefits like assisting in blood sugar management, aiding in weight loss, and even lowering blood pressure.
Because it is made from the leaves of the stevia plant, it contains zero calories and has no impact on blood sugar levels. This makes it a great alternative to sugar for those with diabetes. Additionally, it has been shown to promote healthy digestion and even prevent cavities.
Rosemary Melonade Recipe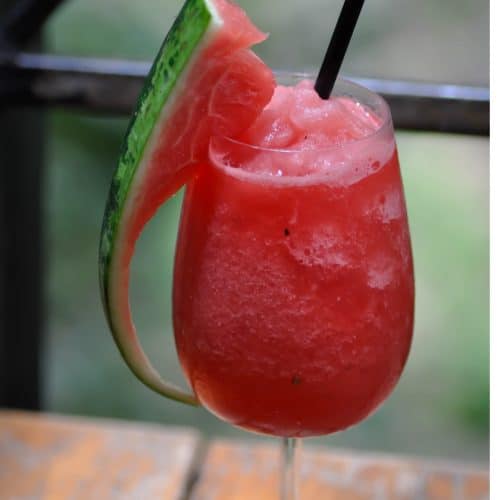 Rosemary Melonade
"This exotic blend sips like a fancy cocktail, but skips the hefty bar tab. Melon is hydrating, rich
in vitamin C and lycopenes to promote a healthy inflammatory response." Tess Masters, The
Blender Girl. Are you hydrating better? Potassium and water are both critical for better hydration
– as potassium guides water into your cells. Enjoy!
Ingredients
3

cups

chopped seedless watermelon, chilled

1

tsp

finely grated lemon zest

1

lemon peeled and seeded

1.5

tsp

finely chopped rosemary

1/2

cup

frozen pineapple

1/4

cup

frozen strawberries

5

drops

alcohol-free liquid stevia + more to taste
Instructions
1. Throw all the ingredients into a blender and blend on high for 30-60 seconds, until well combined.

To kick it up a notch add:

1. 1/2 cup frozen raw cauliflower florets

2. 1/2 tsp cold-pressed, extra virgin olive oil

3. 1/4 tsp finely chopped jalapeno chile
Conclusion: Healthy Cocktails
In conclusion, who says you can't have your cake and eat it too? Or well, in this case, enjoy a cocktail and still maintain a healthy lifestyle!
By choosing the right ingredients, you can elevate the taste while omitting the added sugar and calories that do our bodies no good.
If you're a lover of healthy cocktails, this Rosemary Melonade cocktail recipe is one to add to your collection.  It not only tastes awesome, but it packs a powerful punch of health benefits.
Whether you're looking to combat inflammation, cancer, high blood pressure, digestive problems, or type II diabetes, this drink can help. And the best part? You can enjoy it with or without alcohol!
So, the next time you want to indulge in a tasty libation, remember to keep it healthy – or as we like to say, "cocktail time, but make it healthy"!
What are your favorite healthy cocktails?  Leave a comment and let me know!