INTRODUCTION
It's that time of year again — yes, cold and flu season is once again upon us in all its glory! I'm so thrilled — not! But, fortunately, there are some cold prevention and treatment strategies you can do to stay healthy and not get sick as a dog!
Giving your body what it needs to run better, more often, and taking certain steps can help prevent a cold. Your first line of intervention, what you do when those "getting a cold" symptoms hit, can determine the length and intensity of your cold. What you do during your cold will affect those too. And what you do after your cold also matters to prevent the next one.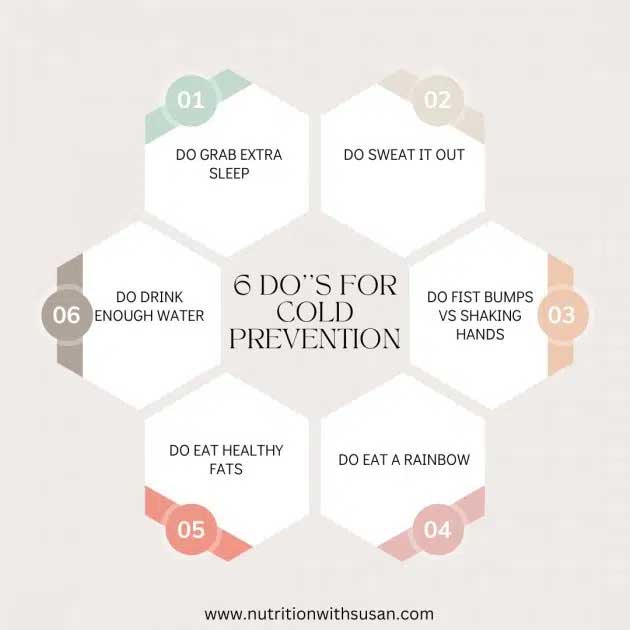 THE DO'S OF COLD PREVENTION AND TREATMENT
When you feel a cold coming on or when you are likely exposed to cold germs, here are some better prevention tips:
1. Do grab extra sleep — Quality and quantity of sleep are equally important as they give the body recovery time.
2. Do bundle up, especially your head and neck. Yes, you can help kick a cold by sweating it out. Some better ways include an infrared or regular sauna, wearing a sweatshirt while you train, and eating some spicy hot chili peppers. And spices like turmeric, ginger, cayenne, and oregano are great choices too.
3. Do fist bumps vs shaking hands.
4. Do cough into your elbow.
5. Do get in a rainbow of plant-based foods especially dark orange, green and purple.
6. Do get in healthy fats (like your omegas). Eat them from plants like hemp, flax, chia seeds, walnuts, organic soybeans, and wild-caught salmon and sardines.
7. Do get in enough water. Make sure you get in enough water to help sweat it out and then replenish with some potassium-rich foods or beverages like coconut water or baked sweet potato slices with guacamole.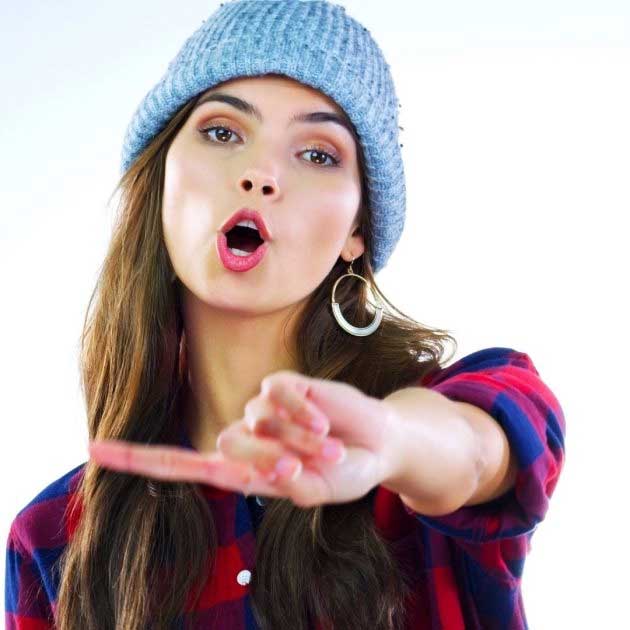 THE DON'TS OF COLD PREVENTION
1. Ditch all alcohol.
2. Ditch dairy.
3. Ditch most caffeine and stimulants.
4. Ditch most added sugar.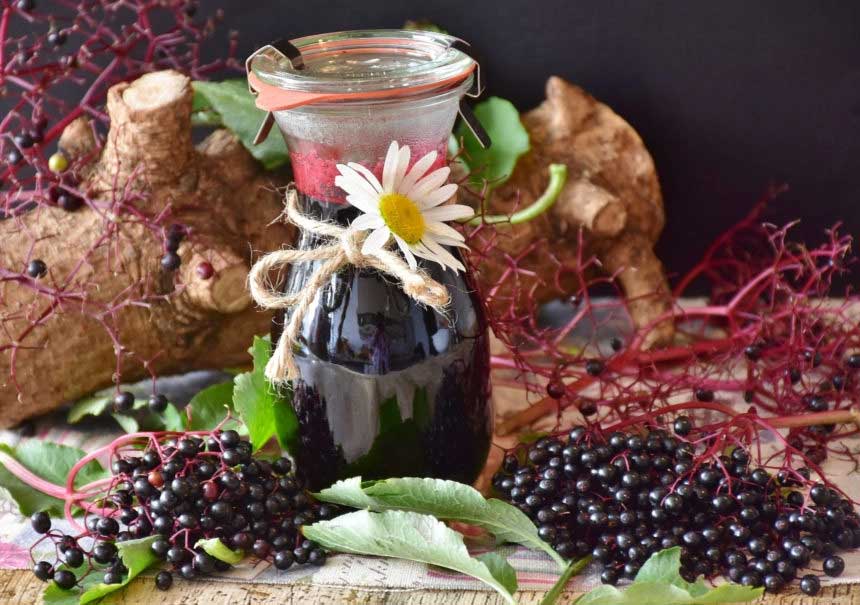 SUPPLEMENTS FOR COLD PREVENTION AND TREATMENT
ELDERBERRY
Used for centuries to ward off sickness, clinical research demonstrates that elderberry helps support a healthy immune response. Quality elderberry is available in some gummies, syrups, capsules, and teas. You can make your own elderberry syrup too.
VITAMIN C
While vitamin C may not help you from first catching a cold, evidence suggests that getting more vitamin C daily might help decrease the duration of cold symptoms – by as much as an 8% reduction in duration of symptoms for adults and 14% in children. Fruits and vegetables are among the best sources of vitamin C!
When you eat a rainbow of plant foods – like red from red pepper and strawberries, orange from sweet potato and cantaloupe, green from broccoli and Brussels sprouts, and white from cauliflower – you get more vitamin C. Just one orange delivers the daily recommended value for vitamin C.
OMEGA-3s
Immune cells are literally lined with omega fatty acids which are called "essential" because we need to take them in since the body can't make them itself. Since we need them daily, if you don't eat these foods regularly you should consider a quality supplemental source.
ZINC
Zinc helps your immune system work better. Without enough zinc, your immune system may not successfully fight off foreign invaders. In one randomized, double-blind, placebo-controlled study, those with the common cold who took zinc lozenges saw a significant reduction in the time it took to come to a complete resolution of symptoms compared to those who took a placebo. That's science-y for "got better faster" so yeah, get your zinc in!
Eat zinc from cashews, chickpeas, hemp seeds, whole grains, and almonds Lozenges can be helpful for most colds just avoid ones with lots of added sugar and take them according to the directions. Zinc can interfere with iron absorption so check with your healthcare practitioner if you're taking an iron supplement or working on improving your iron level.
OIL OF OREGANO
Not much survives regular doses of this powerful anti-microbial ingredient. Be careful with liquids as it can feel like your lips or tongue are burning as it goes to work. Yes, with capsules you may smell a bit like a pizza but that's better than a cold! However, check with your physician if you're taking prescription meds before taking this one.
ECHINACEA
A tea, tincture, or capsule may help your immune system. Not all echinacea is created equal, meaning a lot of what is on the market isn't better so be sure and do your research before taking it.
MUSHROOMS
Many fungi help your immune system fight harder and better, but often you would need to consume more than possible from food or you might not have access to the kinds you need. Quality mushroom supplements are a better choice. Four Sigmatic is one company that makes quality organic medicinal mushroom supplements which I've used for immune support.
HOMEOPATHIC REMEDIES
When you first feel a cold coming on consider turning to homeopathy for tools that can help decongest, soothe, and support your body without unwanted side effects associated with many medications. However, please check with your doc if you're taking prescription medications.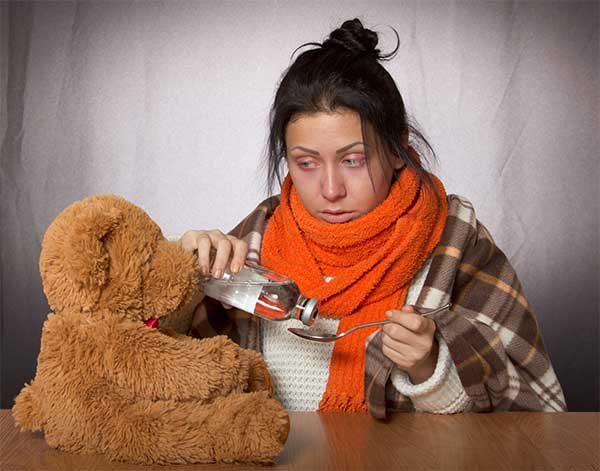 LIFESTYLE HACKS FOR COLD PREVENTION AND TREATMENT
1. Nasal Spray — Yes… and maybe not. A saline nasal spray and steam inhalation treatments (including those with essential oils) are effective tools to address nasal congestion and help soothe an irritated nose. There are questions about whether nasal irrigation (like neti pots or water systems) works or can worsen symptoms.
2. Honey — Yes! honey can likely help you heal from your cold deliciously. Added to herbal tea-without milk – it can help coat your throat and soothe irritation. Don't overdo your honey intake, a serving is a max of two teaspoons and no more than 6 teaspoons in a day. Manuka honey may be more effective, and avoid raw honey for kids, the elderly, pregnant women, or if you would not consider yourself a healthy adult. Local honey may be a great option, especially if your cold is linked to environmental allergies.
CONCLUSION
Give these tips a try this season to help prevent a nasty old cold from coming on. Supporting your immune system especially this time of year is crucial if your want to stay healthy. And who doesn't want that?
For more guidance and recipes, contact me and I'll send you my complimentary Cold Prevention and Treatment Guide. Here's to staying healthy!
***Disclaimer: This post is for informational purposes only and should not be construed as medical advice***